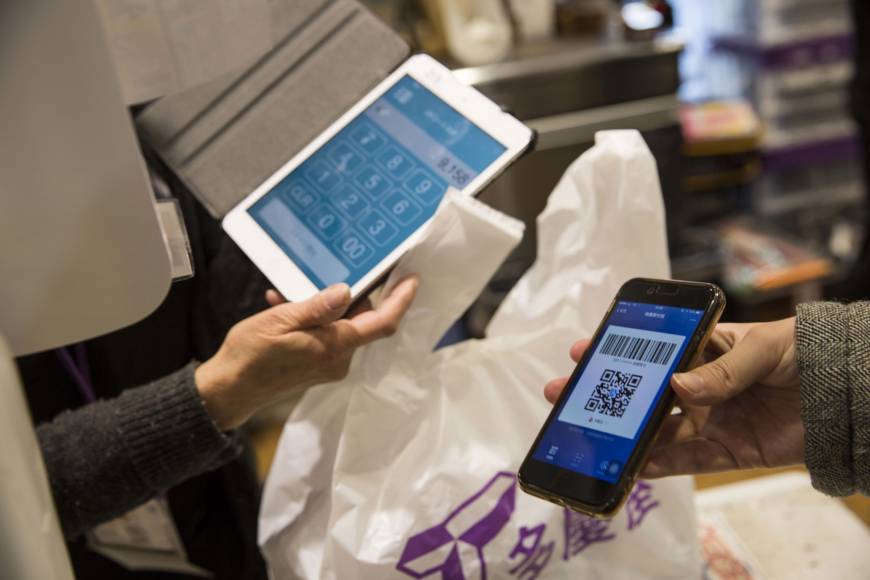 Japan pushes use of cashless payments as Olympics approach and banks strain
Earnest efforts are underway in both the public and private sectors to promote cashless payments ahead of the 2020 Olympics.
Credit cards, electronic money and other cashless systems account for 20 percent of all consumer payments in Japan, compared with 40 percent to 60 percent in the United States, European countries and China.
The government and businesses consider it essential to substantially reduce society's reliance on cash to stimulate spending by those expected to visit Japan for the Olympics and other international athletic events.
The long-rooted custom of using checks to pay in North America and Europe meant they smoothly and quickly embraced credit cards and other cashless means of payment.
In Sweden, where transporting cash is difficult in wintertime, most people are said to use a smartphone-based system called Swish, and an increasing number of stores are no longer accepting cash.
In China, mobile payments based on QR (quick response) codes are in wide use due to widespread counterfeiting problems.
In Japan, however, cashless payments are limited by easy access to ATMs and fewer problems with theft and counterfeiting.
But the social cost of handling cash is huge. Related expenses, including ATM management and labor costs at retailers, are estimated to total ¥8 trillion, according to Mizuho Financial Group Inc. A substantial increase in cashless payments would create economic benefits of ¥10 trillion via such consequences as streamlining and stimulated consumption, Mizuho said.
Read More
The Japan Times
JUN 19, 2018
FROM THE WEB

Convenience of debit card payments puts cash in second place
UK Finance
18th June 2018

Amazon Backs Indian Startup To Replace Cash With Contactless Payments
BloombergQuint
14 June 2018, 12:38 PM

American Express introduces new cashback credit card to appeal to millennials
MarketWatch
Published: June 14, 2018 7:59 a.m. ET

Visa slashes fee on debit card payments, wants more small merchants on board
The Economic Times
Jun 13, 2018, 08.09 AM IST

Mastercard Unveils Top Cities Where People Go to Play, Not Work
Mastercard Newsroom
June 13, 2018

Wells Fargo simplifies payments pricing to compete with Square
AMERICAN BANKER
June 12 2018, 12:56pm EDT
FROM THE TUBE

Adyen shares soar after Amsterdam IPO
CNBC Life
Published on June 13, 2018

The Edison (Mastercard)
Digital Ninja
Published on Jun 4, 2018

Money20/20 Europe 2018 Highlights
Money20/20.tv
Published on Jun 6, 2018

Mary Meeker's 2018 internet trends report | Code 2018
Recode
Published on May 30, 2018

CHINA IS BEYOND CASHLESS
Mamahuhu
Published on May 27, 2018

Jack Dorsey: Facts About The CEO Of Twitter And Square | CNBC
CNBC
Published on May 21, 2018