Exclusive: Ant Financial shifts focus from finance to tech services: sources
BEIJING/SHANGHAI (Reuters) – Ant Financial Services Group,the dominant Chinese fintech company, is shifting its main focus to technology services and away from payments and consumer finance as Beijing's crackdown on financial risk deepens, four sources with knowledge of the matter said.
The company, which is controlled by the Chinese billionaire Jack Ma, plans to accelerate the shift within the next few years, the sources said. They said the move was propelled, in part, by growing regulatory pressure on Ant's core financial businesses, including payments, micro lending, credit rating and wealth management.
Ant Financial was spun off from Alibaba Group Co Ltd, (BABA.N), which went public in 2014, and has played a major role in shaping the financial technology landscape in China. Its Alipay online payment app is one of the biggest players in an increasingly cashless society.
But in five years, technology services will make up 65 percent of Ant Financial's revenue, compared with an estimated 34 percent in 2017, according to confidential company projections viewed by Reuters. That would involve helping banks and other institutions with services like online risk management and fraud prevention.
Meanwhile, revenue from financial services is projected to shrink to 6 percent from an estimated 11 percent, and the contribution from payments will be reduced to 28 percent from an estimated 54 percent in 2017, the figures show.Overall revenue is projected to grow at 40 percent annually from 2017 to 2021, the figures show.The shift better aligns Ant with the government's strategy for the financial sector while giving it room to grow and innovate, said Zennon Kapron, director at the Shanghai-based fintech consultancy Kapronasia.
"It makes a lot of sense for them to be focusing on the technology side because it plays to their strengths and it also fits within the government's view of the way that the financial industry would develop," he said.
Read More
Shu Zhang, John Ruwitch
Thomson Reuters
JUNE 5, 2018 / 2:14 PM
FROM THE WEB

Half of Canadians resist move to 'frictionless' payments due to privacy and security fears; cash continues to thrive
Globe Newswire
June 06, 2018 07:00 ET

Will contactless payment ever take off in Germany?
The Local
5 June 2018 12:03 CEST+02:00

Dutch payments group Adyen seeks €7.1bn valuation in IPO
Financial Times
05 June, 2018

Two of Europe's largest payments businesses, Nets and Concardis, to merge in a multi-billion pound deal
City A.M.
Monday 4 June 2018 2:12pm

Mastercard is looking to integrate its payment tech into Google and Amazon voice assistants
CNBC
04 June, 2018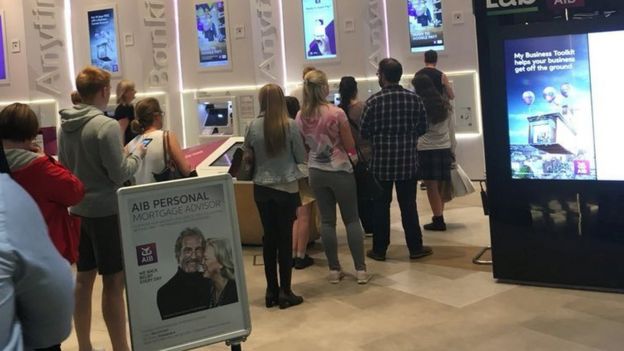 Visa says card payments back to normal
BBC News
2 June 2018
FROM THE TUBE

CHINA IS BEYOND CASHLESS
Mamahuhu
Published on May 27, 2018

Jack Dorsey: Facts About The CEO Of Twitter And Square | CNBC
CNBC
Published on May 21, 2018

Jack Ma Inspirational Dialogue with Tel Aviv University Students
TAUVOD
Published on May 6, 2018

PayPal CEO & Jim Cramer Talk China, Diversity, Alexa and More!
TheStreet: Investing Strategies
Published on May 7, 2018

Wells Fargo Reimagines Mobile Experience with 'Pay with Wells Fargo'
Wells Fargo
Published on May 10, 2018

Counting the cost of going cashless
Financial Times
Published on May 10, 2018