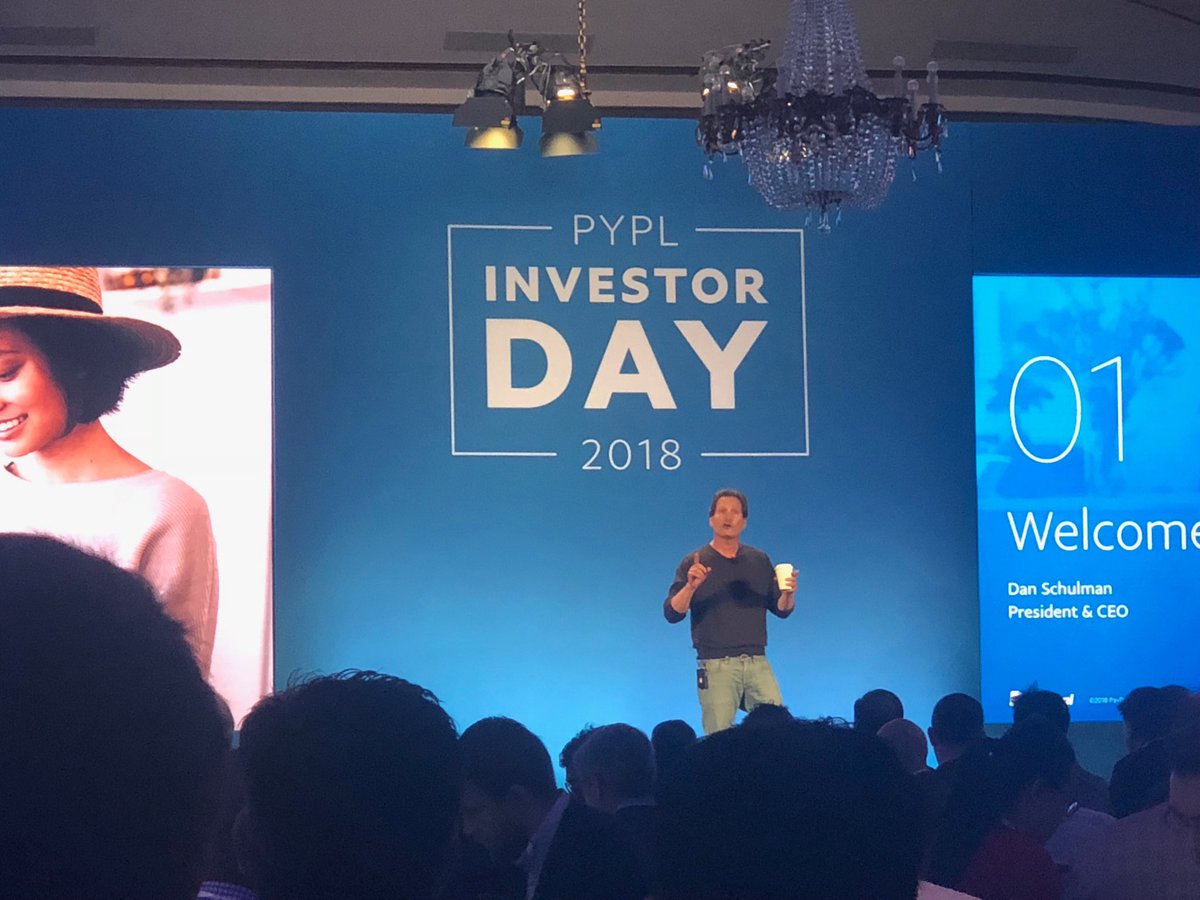 PayPal Wants to Consolidate the World of Rewards Points
PayPal's bi-annual investor day kicked off in San Francisco on Thursday. TheStreet is covering it live.
PayPal (PYPL – Get Report) is one of the hottest stocks in the market.
Why? Because it's growing gangbusters. TheStreet reports live from the fintech giant's bi-annual investor day in San Francisco Thursday.
PayPal: By the Numbers Via CFO
PayPal Chief Financial Officer John Rainey says company will "sustain" and "accelerate" its financial performance.
Sees operating margin expansion this year.
By 2022, sees 85% of its business being mobile.
iZettle will be profitable in 2020. But, sees a 6 cent hit in 2019.
Sees $15 billion in cash by year end 2018.
Expects $1 billion to $3 billion a year to be used in M&A.
17 to 18% CAGR revenue growth; operating margins up; EPS 20% CAGR < ----- 3 TO 5 YEAR OUTLOOK PayPal and Blockchain
A PayPal exec just revealed the company is testing certain applications with blockchain. Accepting crypto at some point?
During Break Time
Chatted briefly with Schulman on the sidelines during the break period. This rewards program consolidator initiative could be big for PayPal. Investors seemed pretty bullish on it as well.
The new rewards initiative will launch this year with CitiGroup (C – Get Report) , Discover and Chase and in 2019, Barclays.
Read More
Brian Sozzi
TheStreet
May 24, 2018 3:27 PM EDT
FROM THE WEB

Visa, Mastercard Push for One-Click Ordering. Retailers Say 'Not So Fast'
The Wall Street Journal
May 24, 2018 10:42 a.m. ET

Counterfeit fraud at U.S. chip-enabled merchants down 76%
visa
May, 2018

Visa India's ex-head to lead WhatsApp Pay?
The Times of India
May 26, 2018, 11:53 IST

A Payments Battle Is Brewing in Hong Kong
Bloomberg
May 25, 2018, 2:30 AM GMT+5:30

Visa Makes Strategic Investment in YellowPepper to Accelerate Adoption of Mobile Payments and Tokenization in Latin America and the Caribbean
Business Wire
May 24, 2018 08:00 AM

Payments firm Adyen plans June listing amid flurry of deals
Reuters
24 May, 2018
FROM THE TUBE

Jack Dorsey: Facts About The CEO Of Twitter And Square | CNBC
CNBC
Published on May 21, 2018

Jack Ma Inspirational Dialogue with Tel Aviv University Students
TAUVOD
Published on May 6, 2018

PayPal CEO & Jim Cramer Talk China, Diversity, Alexa and More!
TheStreet: Investing Strategies
Published on May 7, 2018

Wells Fargo Reimagines Mobile Experience with 'Pay with Wells Fargo'
Wells Fargo
Published on May 10, 2018

Counting the cost of going cashless
Financial Times
Published on May 10, 2018

Technology insights from Day 2
NRF Expo 2018 | Retail Assist Vlog
Retail Assist
Published on Jan 17, 2018