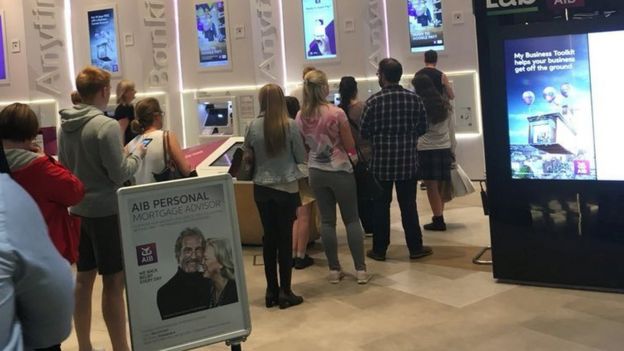 Queues formed at ATMs in Dublin as the issue spread across Europe
Visa says card payments back to normal
Visa services have returned to normal after a hardware failure left European customers unable to make some payments.
The company released a statement on Saturday morning, saying its systems were now working at "full capacity".
Visa apologised and said Friday's outage was not down to "unauthorised access or a cyber attack".
Customers have reported money going missing from accounts when their cards were declined – including one man who lost £10,000 when paying for a car.
Tom Mitchell, from Kent, said the money left his Natwest account, but his bank told him it was up to Visa to complete the transaction – instead, his money has been left in "limbo".
The 33-year-old said: "I live in Kent and went to Ipswich to get this car. It took four hours by train.
"I woke up a few times in the night to check my bank balance so there is a bit of a worry there… and I haven't heard anything today."
Payments processed through Visa's systems account for £1 in £3 of all UK spending.
BBC News
2 June 2018
FROM THE WEB

Visa Network Crash Hits Customers And Retailers
Sky News
01 June, 2018

Pine Labs Raises $125 Mn From PayPal, Temasek To Build 'World Class' POS Payments Platform
Inc42
May 31, 2018

Apple Pay tests 'order ahead' for drinks at music festivals
TechCrunch
01 June, 2018

Modi launches three Indian payment apps in Singapore
Launches BHIM, RuPay and SBI app
The Hindu BusinessLine
SINGAPORE, MAY 31

AmEx Is Likely To Become The Second Largest U.S. Card Processing Company This Year
Forbes
MAY 29, 2018 @ 02:28 PM

How Will Ant Financial, China's Fintech Giant, Be Impacted By New Regulations?
Forbes
MAY 30, 2018 @ 05:28 AM
FROM THE TUBE

CHINA IS BEYOND CASHLESS
Mamahuhu
Published on May 27, 2018

Jack Dorsey: Facts About The CEO Of Twitter And Square | CNBC
CNBC
Published on May 21, 2018

Jack Ma Inspirational Dialogue with Tel Aviv University Students
TAUVOD
Published on May 6, 2018

PayPal CEO & Jim Cramer Talk China, Diversity, Alexa and More!
TheStreet: Investing Strategies
Published on May 7, 2018

Wells Fargo Reimagines Mobile Experience with 'Pay with Wells Fargo'
Wells Fargo
Published on May 10, 2018

Counting the cost of going cashless
Financial Times
Published on May 10, 2018