"Central and Eastern Europe has a lot of entrepreneurial and technological talent, and we believe even more of its companies could be expanding globally," says Felix Huber, Head of Central and Eastern Europe, Middle East, and Africa, at Stripe. "Stripe aims to empower more companies from this region to export their creativity and ambition to the rest of the world."
Newsroom
Stripe
SEP 09, 2019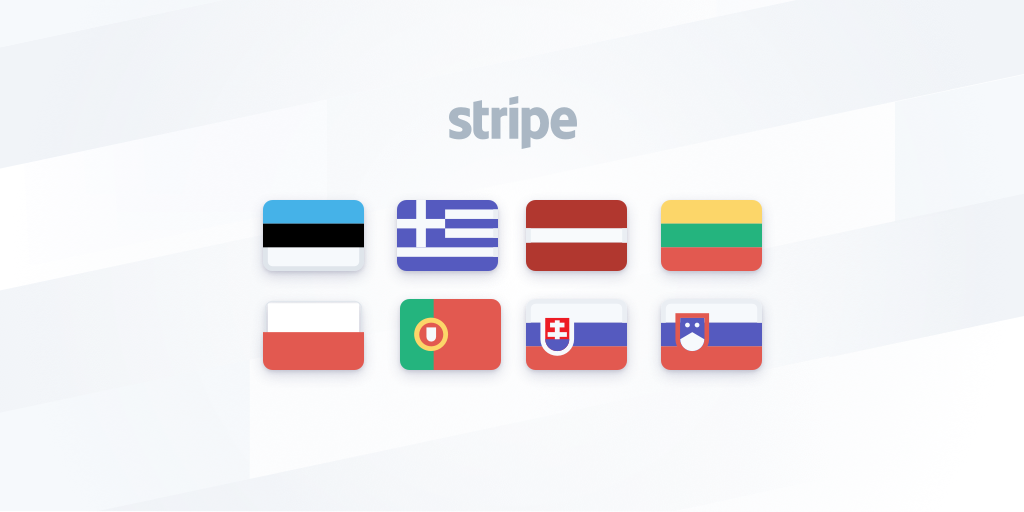 Stripe launches in eight more European countries
DUBLIN – Stripe officially launches its services in Estonia, Greece, Latvia, Lithuania, Poland, Portugal, Slovakia, and Slovenia today, helping internet businesses in these countries to start, grow, and scale their business globally and accept money from anywhere in the world.
"Central and Eastern Europe has a lot of entrepreneurial and technological talent, and we believe even more of its companies could be expanding globally," says Felix Huber, Head of Central and Eastern Europe, Middle East, and Africa, at Stripe. "Stripe aims to empower more companies from this region to export their creativity and ambition to the rest of the world."
In just a few clicks, businesses can export to the world using Stripe infrastructure
Starting today, businesses in these countries can start accepting payments in over 130 currencies in as little as 10 minutes. For the first time, Stripe is giving them access to Stripe's global payments and treasury network. In addition to accepting payments, companies can use Stripe to handle accounting, billing, paying out to third parties and optimizing for mobile payments—all from one centralized dashboard. Stripe users also get access to mobile wallets such as Apple Pay and Google Pay.
Stripe helps companies minimize online fraud
In addition to the challenges of handling multiple currencies, fraud is often one of the greatest blockers for businesses looking to sell to consumers around the world. Stripe uses sophisticated machine learning to provide unrivalled fraud protection and security safeguards that protect businesses and their customers against fraudulent transactions.
Stripe accelerates new internet business models and helps traditional businesses innovate faster
As more activities move online, a new wave of internet companies is growing, including marketplaces, crowdfunding and subscription businesses. Stripe can equip software developers and entrepreneurs in Central and Eastern Europe with the tools they need to be part of the next batch of internet giants.